Industry Leading Traffic Camera Services
Vizzion provides road imagery data and services from over 100,000 traffic cameras and on-vehicle cameras. The proven API is fast, flexible, reliable and allows quick and easy integration of cameras into a variety of applications.
With authorization from over 200 different national and regional government agencies and private organizations in North America, South America, Europe, Asia, Australasia, and Africa, Vizzion aggregates cameras from more than 600 markets and regions in 40 countries.
Adding road imagery to your application provides your end users with visual verification of traffic flow and traffic incidents, weather related road conditions, and real-time updates. Cameras are a proven way to attract new customers and encourage repeat usage.
Industry leaders such as Microsoft, IBM, iHeartMedia, and INRIX place their trust in Vizzion. Contact us to see how we can help.
Broad Coverage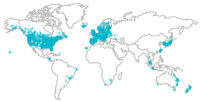 Over 100,000 cameras in more than 600 markets and 40 countries.
Learn more
Proven Systems
Several industry leaders are placing their trust in Vizzion.
Learn more
November 30 2023
Latest news
Vizzion provides traffic camera coverage in Ireland
Vizzion adds coverage in Ireland from Transport Infrastructure Ireland. Over 200 Cameras are now available in Dublin and throughout the country. Vizzion's network includes over 65,000 traffic cameras worldwide.