How On-Vehicle and Roadside Cameras Work Together to Validate Road Weather Conditions
From vehicle speed and congestion to individual incidents causing delays, most issues that can impact traffic flow can be detected automatically and delivered directly to drivers. One of the most potentially dangerous factors, however, remains difficult to detect: road weather conditions. Wet and snowy roads, precipitation, fog, and flooding can be severely impacted by sudden changes in the weather. More than one in every six motor vehicle accidents in the US is weather-related, but there's little drivers can do to mitigate this risk except monitor the current conditions as best they can before and during their trips, and use this information to choose departure times and routes accordingly.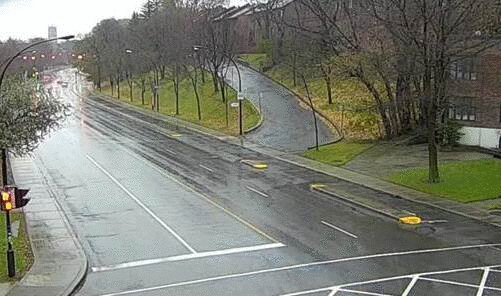 Road conditions can change from damp to snowy to slush all in the course of one hour.
As connected vehicles become more commonplace, drivers will have access to more and more data collected from smart sensors on windshield wipers, brakes, fog lights, and tires. However, this vehicle data can be inconsistent and difficult to confirm. For example, wiper usage varies between different drivers and regions, fog lights are rarely used properly by consumers, and the sample size of vehicles on the road collecting such data is limited due to the cost of the sensors. In addition, the effect that weather has on road conditions differs based on the road construction material, the amount of traffic it receives, its elevation, shading, maintenance, and a host of other factors. While weather data can provide relatively accurate atmospheric information, weather stations may be kilometres from the roadways in question and may not reflect road conditions.
In many cases, the best way to identify hazardous weather conditions is through camera imagery. Vizzion is able to offer a simple, hyper-local "seeing is believing" solution through our roadside camera network and our exclusive on-vehicle imagery, providing drivers, road incident editors, and automated systems with an unparalleled view of immediate weather conditions and allowing them access to the most up-to-date and accurate information about dangerous roadways.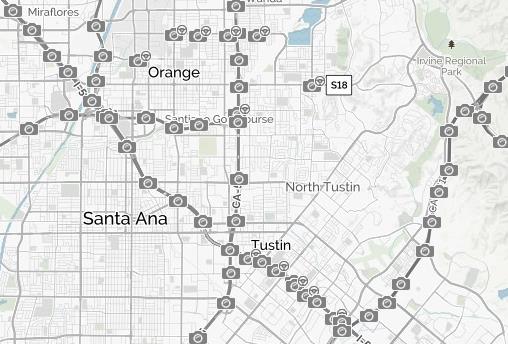 Each camera icon represents one of Vizzion's traffic cameras, with the steering wheel icon symbolizing an on-vehicle "hotspot" camera.
One way to ensure an accurate view of road weather is to have multiple perspectives of the road, as hazardous surfaces may be visible from one angle and less clear from another. Vizzion is uniquely equipped to provide these multiple perspectives, as our roadside cameras are seamlessly integrated alongside our on-vehicle imagery to show the complete picture of how drivers are impacted by rain, snow, flooding, fog, and other hazardous driving conditions. This makes getting a complete picture of the road conditions as simple as selecting a route or geographic area. Vizzion's Web Service API is able to do the rest, delivering on-vehicle and roadside camera data and imagery in an easy-to-integrate format.
Fog
One instance in which roadside cameras are highly effective is in visualizing low visibility weather conditions such as fog. Like other weather events which impede visibility such as heavy precipitation or smoke, fog can lead to a greater chance of missed road signage, a decreased ability to notice other vehicles, and an overall reduced awareness of road conditions, all of which contribute to the high number of fog-related accidents and fatalities on the roadway. While our on-vehicle cameras have an average view distance of 320 metres, our roadside cameras give the viewer an image of around 520 metres of roadway on average, giving the viewer a better idea as to the extent of area that will be covered by fog. Paired with Vizzion's automated visibility detection analytics, our roadside imagery has proven to be one of the most effective sources of fog data available: in a recent ground truth study, 97% of our fog detections proved to be true positives when reviewed by human operators.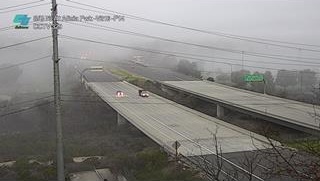 Fog can be hyper-localized in a specific area, making it difficult to detect with traditional weather sensors.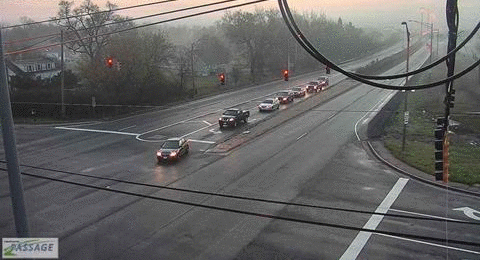 This time-lapse of an accident caused by fog shows the danger that obscured visibility can present to drivers.
Rain
On-vehicle cameras, with their "driver's-eye view," are particularly useful in observing driving conditions in rain. Consumers, traffic incident editors, and automated image analysis systems can see exactly what the road would look like if they were in the driver's seat, and they can judge whether the road looks safe to navigate. For example, the below images taken from on-vehicle cameras show the street-level detail of how water accumulates on the road and streams out from behind vehicles during a heavy downpour. Since Vizzion only pulls imagery from moving vehicles, rain visible on the windshield of a vehicle indicates live rainfall in the area. Paired with the much closer vantage point of the road surface through the vehicle's windshield, on-vehicle cameras prove useful in detecting both actual rainfall and the hazardous conditions created through heavy accumulation of water on the road surface.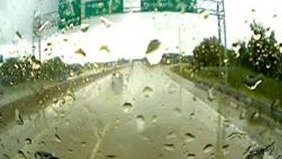 Visible water buildup on the windshield is proof of rainfall in the vehicle's immediate vicinity.
As seen by the plumes of water coming out from behind the vehicle, there is significant water on the roadway which can cause hydroplaning.
Snow
Driving conditions in snow are an example of when having cameras with different vantage points can be instrumental in providing complementary information. Snow impacts drivers in two important ways. As it gathers on the road, the road surface becomes slippery and can be hazardous or impassable if not properly salted or plowed. In addition, the falling snow itself can decrease visibility for drivers if it's particularly heavy. Vizzion's on-vehicle cameras are ideal for seeing if the falling snow has covered the road and how the slippery conditions may impact drivers. They also provide coverage in areas without roadside camera such as the urban neighbourhood shown below, and can provide contextual details such as parking conditions. With their higher viewpoint, our roadside cameras can provide a look into the distance, showing if the visibility has been affected by the winter weather. They can also give viewers a further look into the distance than on-vehicle cameras, showing the surface conditions for over a kilometre in many cases.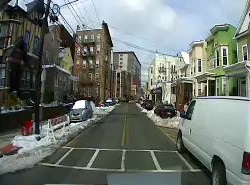 Despite the snow on the ground, this on-vehicle image shows that the roads have been cleared and are safe to drive on, but that parking and curb access is still limited.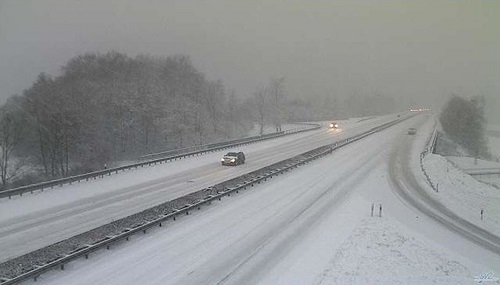 This snow covered roadway in Germany is an example of how precipitation can affect driving conditions.
Extreme Weather
The impact of day-to-day weather events such as rain and snow on road conditions can be easily verified with cameras, but cameras are also useful when it comes to tracking more severe natural phenomena such as floods and tropical storms. Roadside cameras provide visual evidence of flooding that can't be found from other sources such as vehicle GPS data collected from smartphone mapping apps; in fact, in many areas, cameras are often the first place in which the effects of such extreme weather are noticed. Unlike GPS data, cameras will show that the roads are impassable to vehicles, data which can then be published to end users.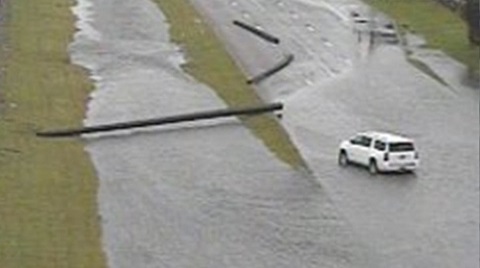 Flooding captured on camera in Houston. In addition to showing road hazards, vehicles in danger can be identified by emergency services.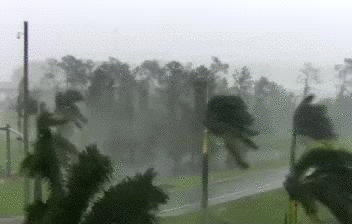 Roadborne debris as shown in the above images from Hurricane Irma is visible from a roadside traffic camera but not available from any other data source.
Even with the advanced weather forecasting and measurement equipment available to meteorologists today, cameras are your most reliable source for ground truth. Unlike weather stations, camera-equipped vehicles are able to provide hyper-local weather information from the roadway in thousands of different locations with high frequency. Cameras provide an easily verifiable and simple to digest means of measuring vehicle traffic, but they're equally effective in providing a quick answer as to the weather conditions on a given stretch of road. Vizzion's imagery and visibility data can be incorporated in a number of ways, including into driver-facing mobile apps and in-vehicle infotainment and navigation platforms, processed via automated analysis to provide machine-friendly data, and used for ground truth studies against alternative road weather sources, making it one of the most user-friendly, versatile, and accurate data sources for road surface conditions available.
About Vizzion
Vizzion is the leading provider of road imagery for traffic, weather, road condition, and safety operations and applications. Through partnerships with over 200 different transport agencies and on-vehicle camera providers, Vizzion offers live feeds from over 140,000 cameras in more than 40 countries across North America, Europe, Asia, Australasia, and key markets in South America and Africa. Both on-vehicle and roadside traffic camera services are available through Vizzion's flexible API and turnkey Video Wall application. Vizzion's content is trusted by major apps, map providers, broadcasters, fleets, and automotive organizations. Contact busdev@vizzion.com for more information.
Articles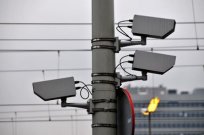 Traffic Cameras: Providing the Whole Picture
Governments around the world spend millions of dollars on implementing and maintaining these traffic cameras because they know that the cameras can help mitigate traffic jams and even save lives.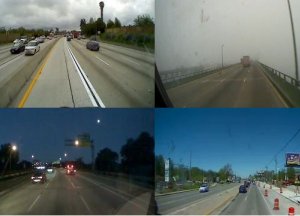 Vizzion Announces New Platform Providing Massive Network of Live On-Vehicle Imagery
Vizzion's new platform will give access to on-vehicle cameras—producing live imagery as they travel.
Applications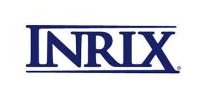 INRIX Traffic is a mobile app that helps drivers avoid traffic and get there faster by providing real time alerts, traffic forecasting and incident information. The free iOS and Android app relies on Vizzion to provide traffic cameras across North America.
Microsoft has selected Vizzion for worldwide traffic camera imagery in Windows 10 and Bing Maps. This feature complements existing traffic flow data and incident data, and allows users to visualize up-to-the-minute road conditions.
Mercedes-Benz leads the automotive technology industry with the release of mbrace2, the first product to enter the market with traffic cameras directly integrated by an auto OEM.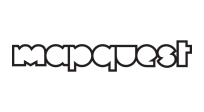 MapQuest receives 40 million monthly unique visitors to its mapping site. Vizzion and INRIX power the "Live Traffic" traffic camera features on the site.