Corporate Overview
A passion to be the best
Vizzion was incorporated in the year 2000 in Vancouver, British Columbia. We released the first version of our traffic camera web services in 2005 with just 1,000 cameras, at the time already the largest and most advanced traffic camera database available.
To maintain our leading position, we set about using our extensive experience with cameras and automated image analysis, coupled with strong support from the Canadian National Research Council, to create sophisticated automated systems to keep us at the forefront of traffic camera service providers.
The resulting unique systems and technologies have allowed us to keep pace with a rapidly changing traffic camera industry. Our database has grown by about
50% each year
to over 65,000 cameras in 43 countries, while maintaining superior data accuracy and leading the way with many innovative service features.
Contact Us
General Inquiries
info@vizzion.com
+1 (604) 985-9399
fax: +1 (604) 985-5866
Sales & Partnerships
busdev@vizzion.com
Press Inquiries
press@vizzion.com
Technical Support
support@vizzion.com
Careers
careers@vizzion.com (no phone calls please)
Our Team
Committed to quality and efficiency
Led by Chris Cooper, a 20 year veteran of camera and imaging applications, our team of talented engineers is committed to providing the best traffic camera service by every conceivable metric. Our uncompromising commitment to the highest quality standards and our ongoing R&D investment in innovative automated systems allow our group to achieve industry leading results at a highly competitive price point.
Careers
If you have a background in cameras and imaging applications and are interested in joining our team, write to us at careers@vizzion.com. Visit our careers page for current job openings.
Partners
INRIX
INRIX, a strategic partner since 2009, is the leading provider of traffic information and services as well as apps and tools for traffic powered solutions. INRIX's industry expertise and technology combined with traffic camera data and services from Vizzion has led to standard-setting camera-enabled applications such as INRIX Traffic, MapQuest maps and TRACKER fleet management services.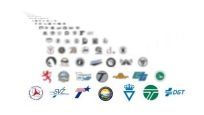 Transportation Agencies
Vizzion partners with more than 200 DOTs and other agencies in North America, South America, Europe, Asia, Australasia, and Africa. By facilitating the distribution of traffic camera images to consumers through a variety of innovative applications, Vizzion is helping agencies all over the world reduce traffic congestion in their local region.
Canadian National Research Council
The Canadian National Research Council has been instrumental in providing research funding, resources and expertise to help us create industry leading technologies such as automatic coverage expansion, continuous data integrity monitoring, and automatic camera viewpoint detection.