Vizrt and Vizzion partner for live global traffic camera feeds
Vizrt, the leading content and graphics provider for broadcasters, has partnered with Vizzion to provide access to live traffic camera streams for Viz World. The partnership provides access to live camera streams from Vizzion directly into the on-air touchscreen product for augmenting any news, weather, and traffic report. Traffic cameras are a key part of any traffic report and are also essential for local weather coverage.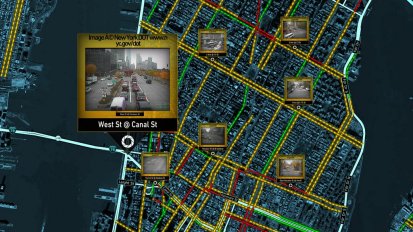 Viz World is a complete 3D real-time mapping system and the broadcast industry's standard for the creation of branded maps and geographic animations. It includes a comprehensive database of the world as well as digital elevation model data for the creation of 3D terrains, and additional vector data such as street data and high-resolution satellite imagery is available in a variety of resolutions. "Traffic cameras display real-time traffic and weather conditions which allow viewers to make informed decisions, save time, and travel safer. Vizrt is an invaluable partner in bringing the benefits of traffic cameras to millions of households worldwide," said Vizzion President Chris Cooper.
Vizzion traffic cameras integrate directly into Viz World and include geo-position data for live location-based display. The cameras are displayed based on your location and zoom level and can easily be added to any news, weather, or traffic presentation alongside Viz World's interactive map, 3D animation, street data, topography, and live traffic data features.
Vizzion provides data from over 65,000 traffic cameras in 43 countries worldwide to the broadcast, web, mobile, automotive, fleet management, and public safety industries. With authorization from more than 200 different public and private transport agencies in North America, South America, Europe, Asia, Australasia, and Africa, Vizzion is the largest aggregator of traffic cameras worldwide. Contact info@vizzion.com for more information.
Applications
Comcast's XFINITY X1 cable platform links incident data to traffic camera imagery, displaying the most up to date traffic conditions to millions of US subscribers.
Microsoft has selected Vizzion for worldwide traffic camera imagery in Windows 10 and Bing Maps. This feature complements existing traffic flow data and incident data, and allows users to visualize up-to-the-minute road conditions.
Mercedes-Benz leads the automotive technology industry with the release of mbrace2, the first product to enter the market with traffic cameras directly integrated by an auto OEM.
Total Traffic & Weather Network (TTWN), the leading provider of traffic, weather, news, and sports content in the United States, has partnered with Vizzion to power the live camera feeds on TTWN's online and mobile traffic platforms.