How on-vehicle and roadside traffic cameras provide ground truth and help plan the safest routes in and out of affected areas
Vizzion's network of traffic and on-vehicle cameras provide real-time critical information and ground truth awareness, allowing emergency response operators and first responders to be the first to know when new events take place without having to rely on other delayed data sources. Traffic flow and weather data typically have latency measured in minutes, whereas traffic camera latency is often 30 seconds or less, with live video available in dozens of markets giving real-time insights into road and weather conditions. Vizzion's cameras can capture information before other data sources which can allow for a quicker response time to prepare and coordinate the allocation of resources.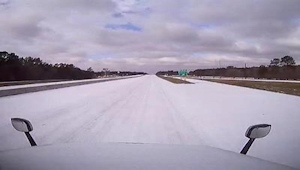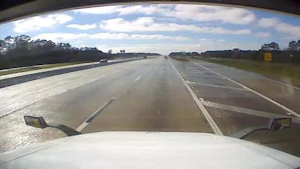 On-vehicle cameras from the same location in Texas capture snow on road (left) and melted snow hours later (right)
Gain context around events to deploy the appropriate resources
Vizzion's camera network provides decision makers with information about road traffic and ground conditions to display and validate the full extent and severity of events, whether it be traffic incidents, road weather conditions, or natural disasters. When emergency response operators get a report of an incident they can quickly pull up the impacted area and view Vizzion's camera feeds to add visual context and verify third party data with real-time images that tell the whole story. This provides operators with the necessary information to analyze and decide on the right allocation of resources depending on the size, scale, and location of the event from a safe distance.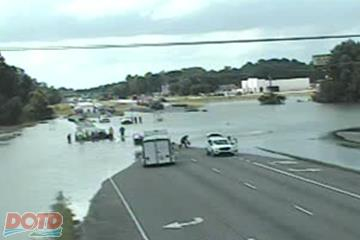 Flooded road blocks traffic in both directions
Plan the fastest route in and out for responders
Vizzion's traffic and on vehicle camera network provides live hyper-local insights into traffic and weather conditions to better equip both emergency dispatchers and first responders with important roadway information to coordinate and navigate the best route in and out of areas during response efforts. 911 operators can use Vizzion's images and video of roadways to divert first responders around any traffic delays or hazards on the way to an event, while also ensuring people and infrastructure in the area are protected when it is unsafe for them to physically reach the location.
First responders arrive at an accident site
Plan evacuation routes
Vizzion's images can provide disaster management teams such as the US Department of Defense funded Pacific Disaster Center with situational awareness and context into road traffic, contraflow and weather conditions after events occur to make informed decisions when planning and implementing appropriate evacuation routes for the public. Live images and video from Vizzion's traffic and on-vehicle network can help emergency response personnel alert the public of any major delays, hazards, or roadblocks to advise the safest and most efficient evacuation route, or alternatively to advise a stay-at-home order if roads are blocked or conditions deemed too unsafe for travel.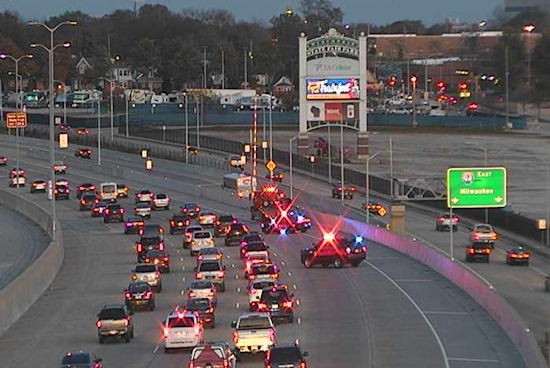 Emergency responders assist traffic after a fire
Reliability when other data sources fail
When dealing with life-or-death situations where situational awareness and the accuracy of data is paramount, Vizzion's traffic camera network provides a reliable data source that control centers can depend on. Vizzion can automatically detect out-of-service cameras and flag them as such in our database, which means that emergency operators don't have to waste valuable time reviewing non-working cameras. Vizzion can also detect cameras that have stalled, showing the same image over and over so operators aren't misled looking at out of date imagery. Vizzion's traffic camera and on-vehicle data provides critical roadway insights to operators when flow data is inaccurate or unavailable, which can occur during events when closed and blocked roads produce no speed or congestion information.
About Vizzion
Vizzion is the leading provider of road imagery for traffic, weather, road condition, and safety operations and applications. Through partnerships with over 200 different transport agencies and on-vehicle camera providers,Vizzion offers live feeds from over 130,000 cameras in more than 40 countries across North America, Europe, Asia, Australasia, and key markets in South America and Africa. Both on-vehicle and roadside traffic camera services are available through Vizzion's flexible Web Service and turnkey Video Wall application. Vizzion's content is trusted by major apps, map providers, broadcasters, fleets, and automotive organizations. Contact busdev@vizzion.com for more information.
Articles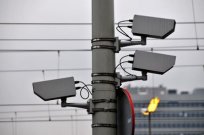 Traffic Cameras: Providing the Whole Picture
Governments around the world spend millions of dollars on implementing and maintaining these traffic cameras because they know that the cameras can help mitigate traffic jams and even save lives.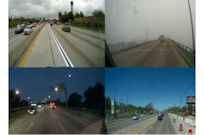 Vizzion Announces New Platform Providing Massive Network of Live On-Vehicle Imagery
Vizzion's new platform will give access to on-vehicle cameras—producing live imagery as they travel.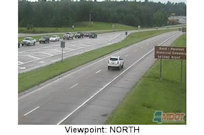 Vizzion Uses Image Analysis to Enhance Data Accuracy and Detect Low-Visibility Conditions
Vizzion's image analysis algorithms create a better end-user experience for its customers by detecting and automatically removing bad images, enhancing impaired images, detecting viewpoints, and through other features.
Vizzion Can Detect Areas of Low-Visibility through Image Analysis
Vizzion's Low Visibility Detection Service scans its network of traffic cameras to detect unsafe driving conditions. The service outputs georeferenced polygons outlining locations of low visibility for use in traffic management centers and mobility apps.
Applications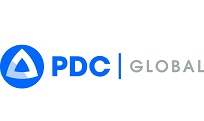 The
Pacific Disaster Center
, an applied science and research center, is offering traffic camera feeds for disaster mitigation and response through their DisasterAWARE platform.