How fleet dispatchers use traffic camera and on-vehicle images to assess road and weather conditions for planning the most efficient routes
Vizzion's network of over 65,000 roadside cameras and tens of thousands of internet-connected on-vehicle cameras provide fleet dispatchers with live roadway insights to assess traffic flow and road weather conditions, helping them plan the most safe, low risk, and optimal routes for their drivers. Vizzion's roadside and exclusive on-vehicle imagery work together to provide multiple perspectives and the most up-to-date roadway imagery. Fleet dispatchers can check congestion levels and road conditions before deliveries are made and while drivers are on route to their destinations. They can also view Vizzion's cameras located along their drivers' routes ahead of time to check for traffic or hazards and communicate the most efficient route to the drivers, saving valuable delivery time.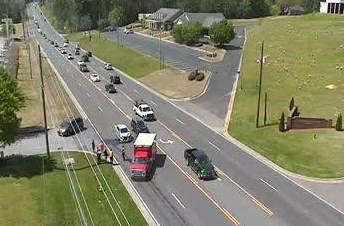 Roadside camera shows traffic back-up caused by accident
Roadside and on-vehicle cameras provide context to avoid costly delays
When operating in a time-sensitive industry like transportation and logistics where time is money, Vizzion's cameras are a reliable data source that fleet dispatchers at Coastal Sunbelt Produce use to display live traffic conditions and avoid costly delays. Every minute drivers are stuck in traffic represents time that could be spent completing additional shipments. According to the American Transport Research Institute (ATRI) truckers getting delayed by congestion led to delays totaling 1.2B hours and costing $74.5B in 2016, while a report by the Federal Motor Carrier Safety Administration (FMCSA) stated severe weather-caused delays cost the industry up to $3.5B. When dispatchers get a report of a traffic incident or serious weather conditions, they can quickly pull up the impacted area and view Vizzion's camera feeds to verify the information source and appropriately alert drivers and re-route them to avoid traffic and weather-related congestion.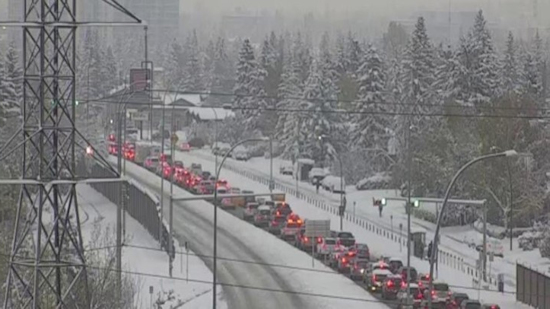 Traffic camera shows congestion and snow
Camera imagery can verify weather information and help avoid dangerous roads
Vizzion's live road imagery can help fleet dispatchers plan a safer route for their drivers by showing dangerous conditions such as wet or snowy road surfaces. Vizzion's camera network provides fleet dispatchers with hyper-local visual confirmation of weather to validate the extent and severity of road conditions so they can navigate drivers around hazardous road passages. Vizzion's on-vehicle cameras show the roadway from a vehicle's perspective providing detailed views of road surface conditions that other sources lack. Fleet dispatchers can view Vizzion's camera feeds for visual verification of weather and road surface conditions, so they can alert drivers to potentially dangerous driving conditions.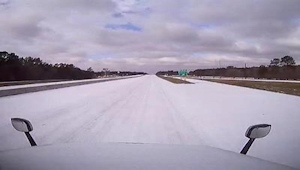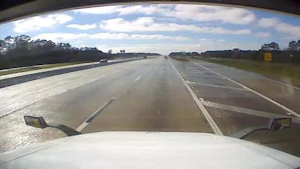 On-vehicle cameras from the same location in Texas capture snow on road (left) and melted snow hours later (right)
Roadside and on vehicle cameras work together to provide the full picture
Vizzion is uniquely equipped to provide multiple perspectives of the road, as our roadside cameras are seamlessly integrated with our on-vehicle imagery to provide fleet dispatchers with the complete picture of how drivers can be impacted by congestion, rain, snow, and other hazardous driving conditions. Vizzion can offer visual verification and ground truth through our roadside camera network and on-vehicle imagery, providing fleet dispatchers with a view of immediate weather conditions and allowing them access to the most live and accurate information about traffic congestion and dangerous roadways.
About Vizzion
Vizzion is the leading provider of road imagery for traffic, weather, road condition, and safety operations and applications. Through partnerships with over 200 different transport agencies and on-vehicle camera providers,Vizzion offers live feeds from over 130,000 cameras in more than 40 countries across North America, Europe, Asia, Australasia, and key markets in South America and Africa. Both on-vehicle and roadside traffic camera services are available through Vizzion's flexible Web Service and turnkey Video Wall application. Vizzion's content is trusted by major apps, map providers, broadcasters, fleets, and automotive organizations. Contact busdev@vizzion.com for more information.
Articles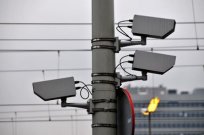 Traffic Cameras: Providing the Whole Picture
Governments around the world spend millions of dollars on implementing and maintaining these traffic cameras because they know that the cameras can help mitigate traffic jams and even save lives.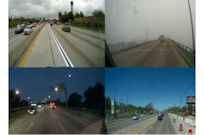 Vizzion Announces New Platform Providing Massive Network of Live On-Vehicle Imagery
Vizzion's new platform will give access to on-vehicle cameras—producing live imagery as they travel.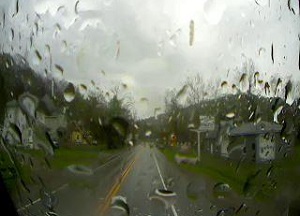 How On-Vehicle and Roadside Cameras Work Together to Validate Road Weather Conditions
Vizzion's unique combination of roadside and on-vehicle imagery positions them as a leading provider of road condition data and surface weather conditions.
Vizzion Can Detect Areas of Low-Visibility through Image Analysis
Vizzion's Low Visibility Detection Service scans its network of traffic cameras to detect unsafe driving conditions. The service outputs georeferenced polygons outlining locations of low visibility for use in traffic management centers and mobility apps.