Blog: Vizzion Expands Operations Center
Tiffany Leung, Administrative Assistant
Twenty years of business has taught us a lot. One lesson we've taken to heart is that offering a professional, yet enjoyable work environment plays a key role in creating a satisfying and productive work space. With this in mind, Vizzion is very excited to share that we have expanded our office space! Directly adjoining our existing unit and doubling the footprint, the new work space is located in North Vancouver's Dollarton Business Park. Easily accessible by bicycle, transit, or car, the office is surrounded by local amenities such as grocery stores, cafes, restaurants, breweries, gyms, and yoga studios. This new space offers us everything we need to propel into the next twenty years and beyond.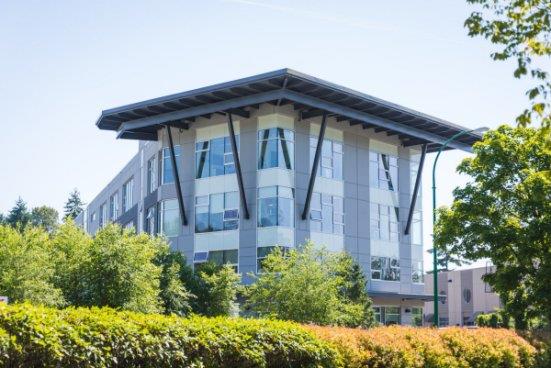 The site of Vizzion's expanded operations center.
Vizzion's customers, such as Microsoft, rely on our network of roadside cameras and on-vehicle imagery produced in 50 North American cities for a unique view of road conditions and traffic data. Creating room to add forward-thinking members to the team and increasing the space available for collaboration will be the force that allows the company to create innovative solutions and ultimately drive us towards future success. Expanding our work space allows Vizzion to comfortably add the additional staff needed to continuously develop its existing suite of products and create new ones; all while continuing to provide a reliable level of customer support. Vizzion's President, Chris Cooper, commented on the new space: "We have an amazing group of creative and talented people here at Vizzion and they deserve the best possible environment for them to innovate in."

Check out our new space!
Over the past few years Vizzion has introduced groundbreaking products such as the Desktop Video Wall and Low Visibility Detection service. Our latest development is an application that collects images from on-vehicle cameras as our partner vehicles pass through specified points. This process of collecting, storing, and retrieving on-vehicle camera imagery is used to create and validate the accuracy of mapping platforms, as well as in other novel applications. We are able to develop products like these through the strong creative and technical skills held by our team. The expanded space has made it so Vizzion's employees have everything they need to help keep the company on the leading frontier of roadway image data collection and analysis.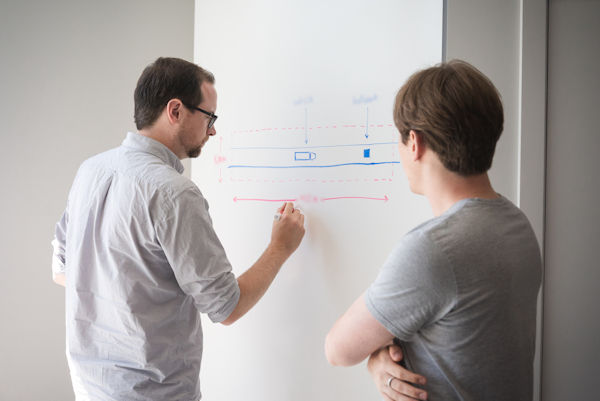 The whiteboards are perfect for collaborating on new ideas.
During the uncertain times of the COVID-19 pandemic, Vizzion is prioritizing the safety and health of its team members. Expanding the space has allowed us to limit the risk to those members of our team who are in the office by providing plenty of separation at workstations and in shared areas such as our new break room.
Vizzion's new space includes seven additional floor to ceiling whiteboards as well as two more meeting rooms. Our whiteboards are covered with product design ideas, but they are also where we plan our monthly social activities. From phone calls with customers to discuss the latest product developments, to internal planning meetings and weekly updates, the meeting rooms are where ideas turn into action plans.
The new meeting rooms are great for a conversation.
With the additional space and amenities, Vizzion has expanded its team-building and social events. Designed to bring the team together and teach each other something new, these events are one of the staff's favourite parts about working at Vizzion. Every Thursday we hold our Lunch and Learn program, an opportunity for one team member to share the progress they've made on a project or educate the rest of company on new findings in the industry. Following the presentation, we move into our newly-expanded break room for a discussion on the topic over lunch. On Fridays, after the work-day, we offer an opportunity to connect and socialize through Beer Fridays. Vizzion's President adds, "One of the things I think we've nailed at Vizzion is the work-life balance. Work the hours you want, take off as much time as you want, and unwind at end of a busy week with a free beer!" You can learn more about the wide range of benefits offered by Vizzion in this blog.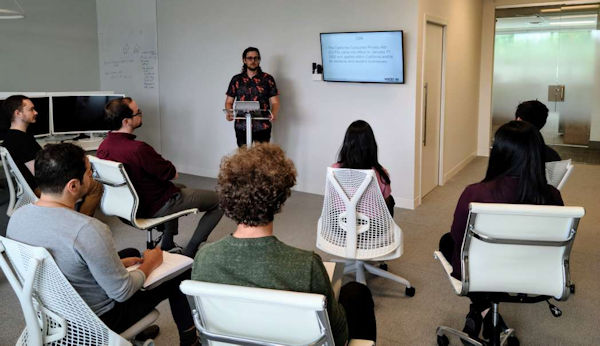 The team learns about new privacy laws.
About Vizzion
Vizzion is the leading provider of road imagery for traffic, weather, road condition, and safety operations and applications. Through partnerships with over 200 different transport agencies and on-vehicle camera providers,Vizzion offers live feeds from over 130,000 cameras in more than 40 countries across North America, Europe, Asia, Australasia, and key markets in South America and Africa. Both on-vehicle and roadside traffic camera services are available through Vizzion's flexible Web Service and turnkey Video Wall application. Vizzion's content is trusted by major apps, map providers, broadcasters, fleets, and automotive organizations. Contact busdev@vizzion.com for more information.