Blog: Learn more about Vizzion's benefit package
Tiffany Leung, Administrative Assistant
Vizzion prides itself on being an innovative company. To live up to that standard, we recognize that organizational success is driven by our team members. As such, we offer a unique collection of employee benefits that focus on development, team-building, and flexibility, making Vizzion a rewarding company to grow with.
Weekly professional development time
We know that best-practices are constantly changing, new tools are being developed, and knowledge is an unlimited resource. To stay on the leading edge of the industry, our employees are encouraged to spend their Friday afternoons engaging in a professional development project. For some this means reading books written by various experts, experimenting with different computer vision tools, or learning a new coding language. Aidan Anderson, one of Vizzion's Software Engineers, says that he enjoys professional development because it "offers a way to explore different approaches to a problem outside of normal development time. I find this valuable as it allows me, as a developer, to gain a deeper understanding of the problem, with the added bonus of potentially finding a better method for solving it."
Education reimbursement
Outside of the office, Vizzion also offers a reimbursement of up to $2,000 for education programs and tuition. This goes towards courses offered by accredited schools and professional associations. Employees have taken advantage of this opportunity to offset a portion of the cost of their post-grad degrees and to earn new certifications.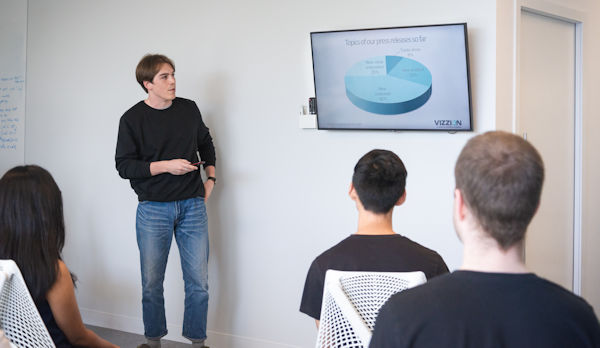 One team member shares his insight into Vizzion's press releases.
Weekly lunch and learns
We implemented the Lunch and Learn program to support collaboration and the sharing of new ideas. Each Thursday, one team member presents on a topic related to progress they've made on a project, an industry development, or what they have learned from their professional development activities. Following the presentation, we hold a 30 minute discussion over lunch where the presenter will share what is holding them back from advancing on their project and the rest of the team will brainstorm solutions. Healthy lunch options are offered and switched up between weeks. On his experience with the program, Vizzion's Account Manager Sean Beaudoin says, "Lunch and Learns are a great way to keep on top of what my coworkers are doing and learn some interesting things in the process – we've had presentations on everything from genetic algorithms to emergency preparedness to differences between various types of cabling."
Flexible hours and vacation
The flexible schedule arrangement we offer is one of the factors that gives our benefit package an air of distinction. Over the course of the year, each team member is asked to work between 1,560 and 2,080 hours. Everyone is granted the autonomy to meet this annual range in a variety of ways. For example, if someone has a busy week, they may elect to compensate by working shorter days, taking an entire day off, or saving that time to take a vacation later in the year. Some of our staff will make a deliberate effort to work longer hours during the winter with the foresight of keeping their days or weeks shorter in the summer months. Trevor Wou, a Content Engineer with Vizzion says that "working flexible hours and having lots of vacation time really helps with keeping a healthy work-life balance."
Vizzion's vacation policy goes above and beyond what is mandated by British Columbia's Employment Standards Act. We grant our team members the option to take vacation time within the first year of employment and this time is not limited to two weeks per year. If a team member were to consistently work 40 hour weeks, they could conceivably take up to 13 weeks off in the year. Early in his career, our Marketing Manager, Keith Anderson took four consecutive weeks off for a "roadtrip of a lifetime." He states, "I would never have been able to do that as easily at another company, while still being able to take off the occasional 3 day weekend during ski season."
Office facilities
We have recently expanded our office to make room for our growing team. The new space directly connects to our existing unit and doubles the footprint. The office is easily accessible through all modes of transportation as we offer free parking and secure bike storage, and it is located down the street from Phibbs Exchange, making it very convenient to reach via transit. The building is also home to shower facilities and is in a neighbourhood busy with local amenities such as grocery stores, cafes, restaurants, breweries, gyms, and yoga studios. To keep everyone powered up throughout the day, we have a kitchen and break room stocked with coffee and tea.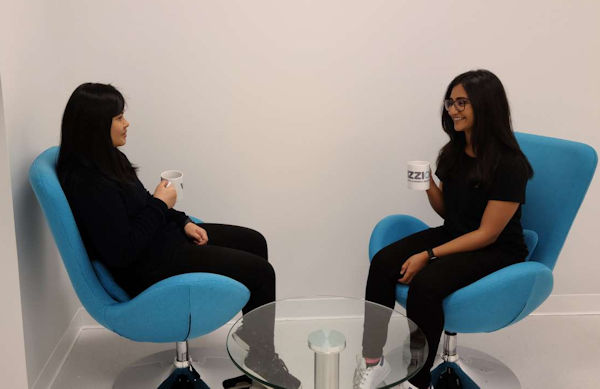 Two team members enjoying a morning cup of coffee.
Regular social events
Each month, our team members have the option to gather for a company-sponsored social activity out of work hours. Over the years we have gone kayaking, ice skating, hosted group BBQs, sampled local restaurants, and visited the laser tag facility across the street. As our team has grown substantially over the past year, we have instituted a weekly 'Say Hello' lunch program where two employees can get together for a meal, paid by the company. We've found this helps quickly introduce new hires to their co-workers and creates an opportunity for employees who have worked together for a while to get to know each other on a personal level.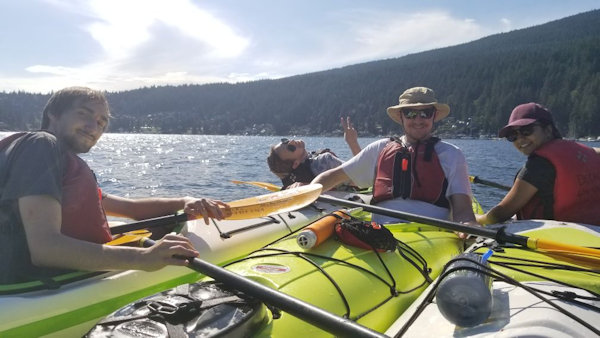 Vizzion's team enjoys some time on the water after work
A new initiative offered by Vizzion, made possible with our expanded break room, is Beer Fridays. The concept is as simple as it sounds. Each Friday, following the work day, we unwind in the break room with a beer (or non-alcoholic option) in our hands and chat about work topics and our plans for the weekend.
Employees gathered in the new break room for Beer Friday
Each year, during the holiday season, the whole team and our +1's will go out for dinner. This is a great opportunity to get together and toast to all of our accomplishments over the past year with drinks and a meal covered by the company. Since most of our team members choose to take off the week between Christmas and the New Year, this event marks our unofficial year-end.
Flexible health plans
Vizzion offers its employees a reimbursement of up to $2,000 for an annual extended health and dental plan of their choice. Choosing their own plan means that everyone is able to match it to their personal needs.
Vizzion's company culture has been developed over twenty years of business. It's centered on growth, high-performance, and the recognition that our employees are the engine that keeps the company running. Created through a combined top-down approach and company-wide brainstorming initiatives, our unique benefits package is a strong representation of our culture and it's one aspect of what sets Vizzion apart as a rewarding place to work.
About Vizzion
Vizzion is the leading provider of road imagery for traffic, weather, road condition, and safety operations and applications. Through partnerships with over 200 different transport agencies and on-vehicle camera providers, Vizzion offers live feeds from over 100,000 cameras in 40 countries across North America, Europe, Asia, Australasia, and key markets in South America and Africa. Both on-vehicle and roadside traffic camera services are available through Vizzion's flexible API and turnkey Video Wall application. Vizzion's content is trusted by major apps, map providers, broadcasters, fleets, and automotive organizations. Contact careers@vizzion.com for more information.