AccuWeather/INRIX deliver Vizzion traffic cameras for broadcast
Vizzion traffic cameras are now available to broadcasters on StoryTeller, AccuWeather's on-air interactive touchscreen solution. StoryTeller's INRIX Traffic App allows presenters to display and interact with Vizzion's traffic camera snapshots and live streaming video alongside projected travel times, maps, and weather data.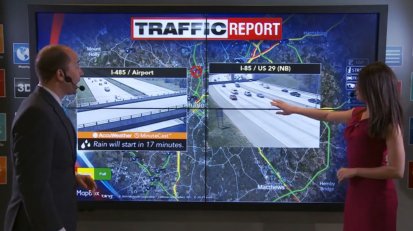 Presenters are able to view camera locations as a layer displayed on the interactive map and then tap camera icons to display single or multiple camera feeds at a time. Vizzion's entire traffic camera web service is actively monitored and has built in caching features to prevent non-useful images from going to air. Storyteller's INRIX Traffic App customers have access to 33,000 cameras in over 300 cities across the US to help their traffic reports come to life.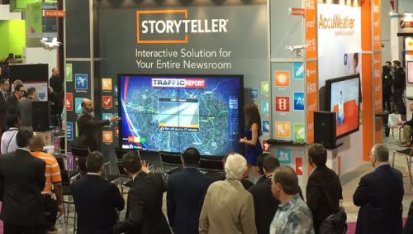 Vizzion provides data from over 65,000 traffic cameras in 43 countries worldwide to the broadcast, web, mobile, automotive, fleet management, and PND/GPS industries. With authorization from more than 200 different public and private transport agencies in North America, South America, Europe, Asia, Australasia, and Africa, Vizzion is the leading provider of traffic camera data and services. Traffic cameras are a proven way for websites and application providers to attract new customers and encourage repeat usage. Contact info@vizzion.com for more information.
Applications
Comcast's XFINITY X1 cable platform links incident data to traffic camera imagery, displaying the most up to date traffic conditions to millions of US subscribers.
Microsoft has selected Vizzion for worldwide traffic camera imagery in Windows 10 and Bing Maps. This feature complements existing traffic flow data and incident data, and allows users to visualize up-to-the-minute road conditions.
Mercedes-Benz leads the automotive technology industry with the release of mbrace2, the first product to enter the market with traffic cameras directly integrated by an auto OEM.