Blog: What partnership means to Vizzion
Keith Anderson, Marketing Manager
One of the most satisfying parts of my work is helping our customers solve problems through innovative use of our data. I was recently inspired by the lengths our team went to help a couple of mapping data providers. These organizations asked us for help because of our unique offering of both a fixed network of roadside traffic cameras, which provide a consistent wide viewpoint and often include streaming video feeds, and a roaming network of thousands of internet-connected on-vehicle cameras which cast a wider net of coverage.
The first organization needed imagery, from any time, of specific roadway locations to understand infrastructure changes, because it was becoming too expensive for them to send out drivers to investigate – especially when offering a product with national or international coverage. We quickly built an app to read their list of locations of interest and then pull the closest imagery from several months of archived of on-vehicle cameras through our API and display everything on an easy-to-understand satellite map.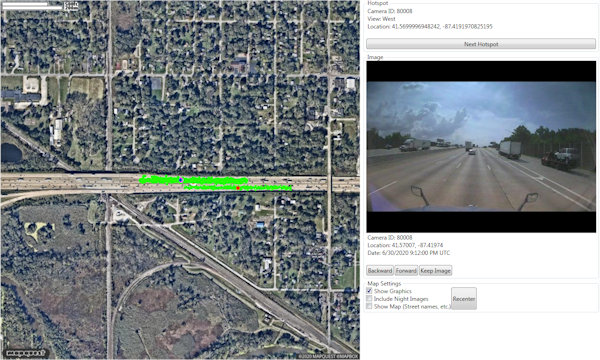 A custom tool developed by Vizzion to help a mapping provider see infrastructure changes at thousands of proprietary locations. Green dots show recent image captures around two such locations.
The second mapping provider needed imagery from general areas at specific times to verify weather conditions, because verifiable weather data doesn't exist on the hyper-local scale – there are several kilometers between weather stations at best. We built a tool to pull weather event times, locations, and type from their data and match it with live and historical roadside and on-vehicle imagery, which allowed for the true/false categorization of events.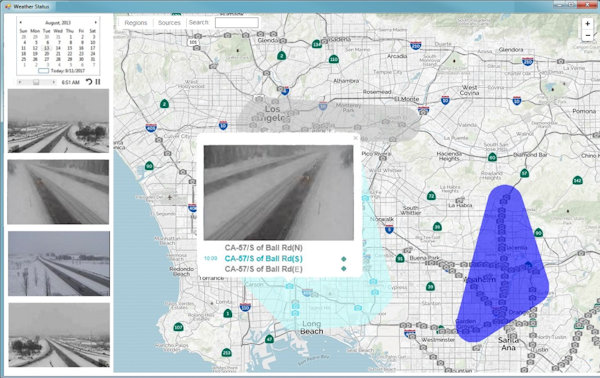 A tool using Vizzion's historical imagery and web service to review and confirm historical weather events.
Vizzion's content engineering team, which specializes in detailed review of road imagery, then searched for the customers' requested information and produced data sets of thousands of successful images within a short turn-around time. These curated images allowed our partners to conduct ground truth verification of their other data sources and perform root-cause analysis of discrepancies.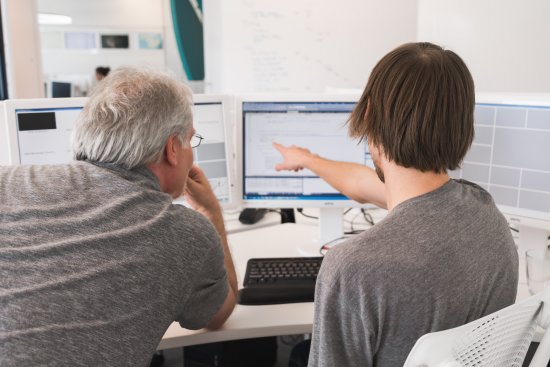 Vizzion staff pore over data.
Our partners were surprised that we were able to hand over these image sets, because in their previous experiences, other providers would only allow them to either see insights from image analytics or send their users back into the providers' proprietary applications to view imagery. By contrast, Vizzion's customers are allowed to pull imagery (and video, where available) into their own B2B or even public-facing applications, archive feeds in most cases, and run their own image analytics. We even provide labeled imagery to help customers train their own image analysis programs.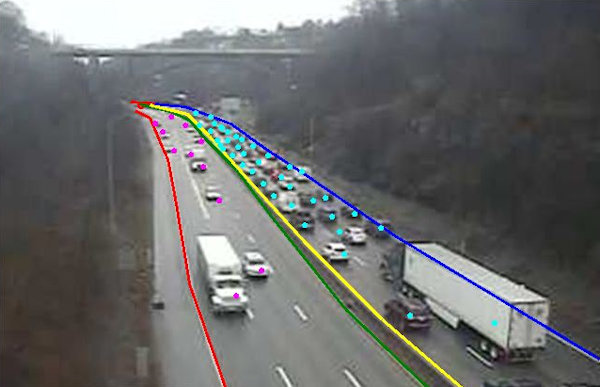 A labeled image provided by Vizzion with travel direction boundaries, median, and vehicles marked.
The cases I've shown here are just two recent examples of many successful partnerships in which we've gone above and beyond to help our customers solve their problems and add value to their products. In another example, a major traffic data provider needed a way for a relatively small number of operators to watch over a large geographic area to locate and report on incidents, so we designed and built the Desktop Video Wall to their specifications.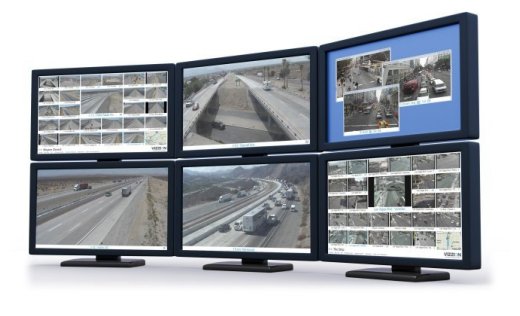 Vizzion's Desktop Video Wall allows users to efficiently watch over a massive amount of roadway.
Another time, a major weather data provider wanted ground truth for road conditions within emergency weather alerts, so we added a feature to our API that allows users to request images by polygon – the emergency weather alert format.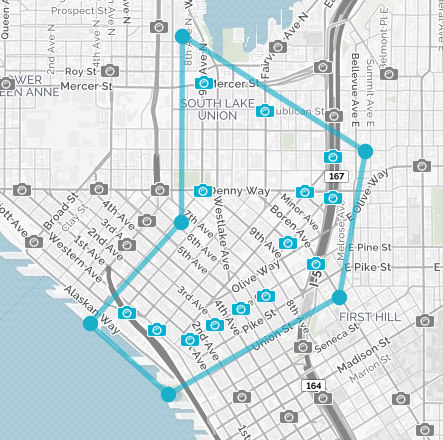 An example of Vizzion's API feature that retrieves cameras from within polygons.
We've even built out potential integration scenarios as sample apps so we can hand over pre-written code and save customers days or weeks of development time.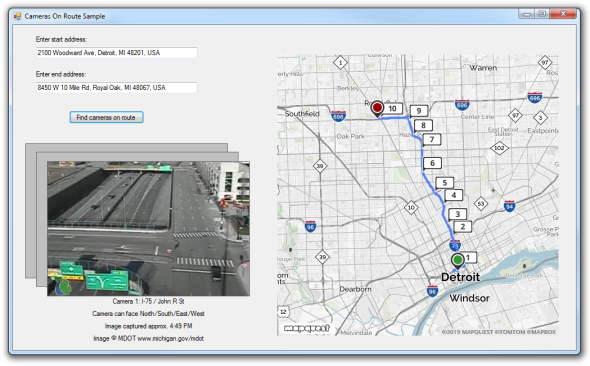 One of Vizzion's numerous sample apps, all available with full source code, shows how to display cameras along a route.
We know developer and other staff resources are limited, so we make it a priority to provide our partners with the best support and resources possible to take advantage of our global road-facing camera network – whether that's custom app development, manual human labeling of images, or development of image analysis algorithms. These are some of the reasons that our partners rate our support an average of 9/10 on our annual customer survey.
At Vizzion, we know that you understand your customers, industry, and use cases best – just as we know road imagery best. We want to establish lasting partnerships with our customers that grow and evolve in tandem with their business model and products, and we're willing to go the extra mile to ensure that we help solve your problems – without stepping on your toes. If you want a flexible and capable partner that will help your applications succeed, then reach out to us at busdev@vizzion.com and let's see how we can help.
About Vizzion
Vizzion is the leading provider of road imagery for traffic, weather, road condition, and safety operations and applications. Through partnerships with over 200 different transport agencies and on-vehicle camera providers, Vizzion offers live feeds from over 100,000 cameras in 40 countries across North America, Europe, Asia, Australasia, and key markets in South America and Africa. Both on-vehicle and roadside traffic camera services are available through Vizzion's flexible API and turnkey Video Wall application. Vizzion's content is trusted by major apps, map providers, broadcasters, fleets, and automotive organizations.