Blog: A look inside Vizzion's hiring process
Zumina Nanji, HR Manager
My name is Zumina and I'm the HR Manager at Vizzion. I know that looking for a new job can be daunting and when you do hear back from a company that wants to interview you it's a less stressful experience if you know what to expect. We're constantly adding to our team so I thought this would be a helpful post for candidates wanting to know what to expect during Vizzion's interview process.
The hiring process for our candidates starts when they've submitted their resume and cover letter in response to one of our open positions. After that I'll review applications as they get submitted and set up preliminary phone interviews with the candidates that seem like they may be a good fit for the role. Assuming that the phone interview goes well, the candidate is invited into the office for a first interview.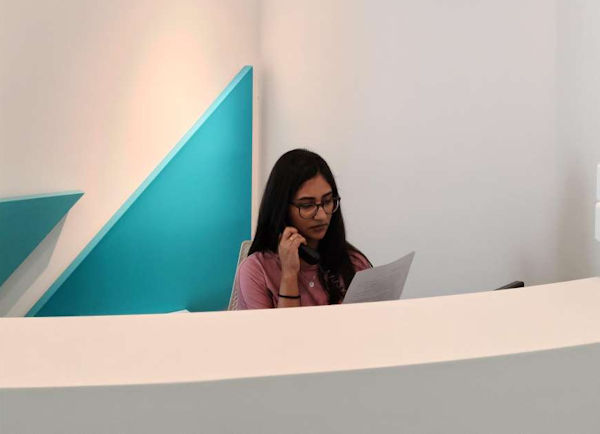 Holding a preliminary phone interview with an applicant.
During the first in-person interview we ask candidates to complete a few aptitude tests. The tests cover topics such as basic math, reasoning, and technical skills specific to the role. The candidate's performance on these tests is one of the things that predicts how well they may perform in the role they've applied for. To learn more about the candidate in the first interview they will have a conversation with both myself and their future potential supervisor. This is also a great opportunity for candidates to gain a better understanding of Vizzion and our company culture so come prepared to ask us lots of questions!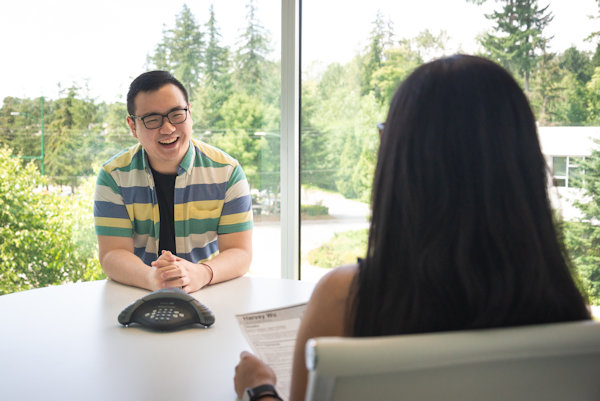 Getting to know one of our candidates.
After the first interviews we'll discuss how they went internally and invite one or more candidates into the office for a second interview. During this interview candidates get to view demos of some of Vizzion's products and give a short presentation to a few employees. We'll also ask the candidate to perform a few online practical tasks to see how they approach different problems. Having an interview process that includes a variety of activities gives us a broader perspective on the candidates' strengths. Our hiring process is also unique as candidates get to meet several people working at Vizzion, instead of just the HR Manager.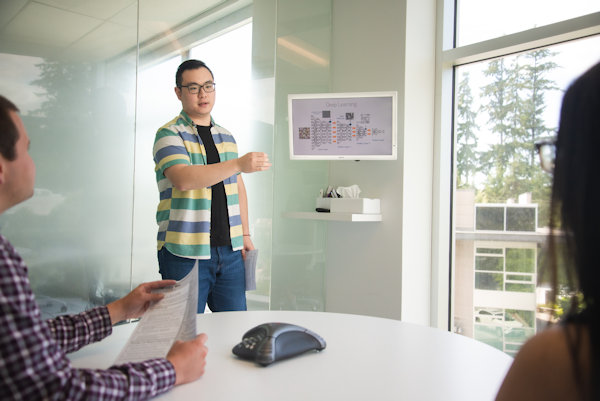 A candidate presenting on a topic related to their prospective role.
Once we send out an offer to a candidate, we start prepping for their first day at Vizzion by creating employee files, setting up their workstation, and planning out what tasks they'll begin with. Vizzion's onboarding process is very thorough. On the new hire's first day at Vizzion we run through the employee contract and the company policies, give them a tour of the office, introduce them to the rest of the team, and treat them to lunch with their supervisor. Then training will begin, which can take anywhere from a week to several months, depending on the role.
The hiring process at Vizzion is unique and has evolved over the years to help us find the candidates that would make great additions to our team. My goal for this post was provide as much information as possible about our hiring process, so all applicants know what to expect and feel at ease when interviewing with us. I look forward to receiving your application and meeting you!
About Vizzion
Vizzion is the leading provider of road imagery for traffic, weather, road condition, and safety operations and applications. Through partnerships with over 200 different transport agencies and on-vehicle camera providers, Vizzion offers live feeds from over 100,000 cameras in 40 countries across North America, Europe, Asia, Australasia, and key markets in South America and Africa. Both on-vehicle and roadside traffic camera services are available through Vizzion's flexible API and turnkey Video Wall application. Vizzion's content is trusted by major apps, map providers, broadcasters, fleets, and automotive organizations. Contact careers@vizzion.com for more information.