Blog: Our experience at Automobility LA
Cole Gawenda, Communications Manager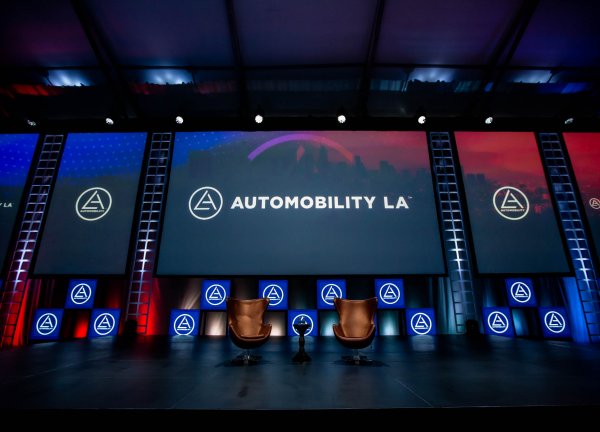 My name is Cole, and as the new Communications Manager for Vizzion, I wanted to share my experience planning for and exhibiting at Automobility LA. We were one of twenty companies to exhibit at the show, which was an auxiliary event to the annual LA Auto Show held at the Los Angeles Convention Center. The event brought together industry leaders in the automotive and technology sectors to present the future of mobility. Choosing Automobility LA to show off our newest technology was an easy decision, as California is at the center of innovative vehicle activity and Los Angeles is a major media market. Exhibiting at a location surrounded by cars on the frontier of development, new technologies, and the brightest minds in the industry was an opportunity we couldn't pass up.
One key reason for exhibiting at a convention like this is to meet with people from companies we haven't been exposed to yet, and Automobility LA was no exception. From new ridesharing options to cutting-edge vehicle navigation technology and everything in between, we got to see a sneak preview of how transportation and technology will interact in the future. One of our goals at this show was to continue to grow our network of contacts in the automotive industry, which we did by using the show's mobile app to set up meetings at our booth. Speaking with the media roaming through the event and contributing to their stories was another objective of ours. We were grateful to be included in multiple
articles
and
videos
about technologies that can improve the common commute.
In the weeks leading up to the show, I spent most of my time ensuring we had everything we needed for our booth. I contacted suppliers, coordinated with the show organizers, and researched other exhibitors and attendees so our account managers could contact them and set up meetings. We sent out invitations to the show to our current and prospective clients, and prepared to discuss our latest developments and products.
From our years of exhibition experience, we've developed an easy-to-follow set of tasks that help us prepare and organize our booth materials, which limits the amount of work required once we reach the show floor. One of the most important pre-show tasks is choosing the ideal location for our booth. For this show, we debated positioning it towards the center of the show floor, before ultimately choosing to face our booth towards the entrance of the exhibition hall, with the intention of attracting the attendees' attention as soon as they walked in.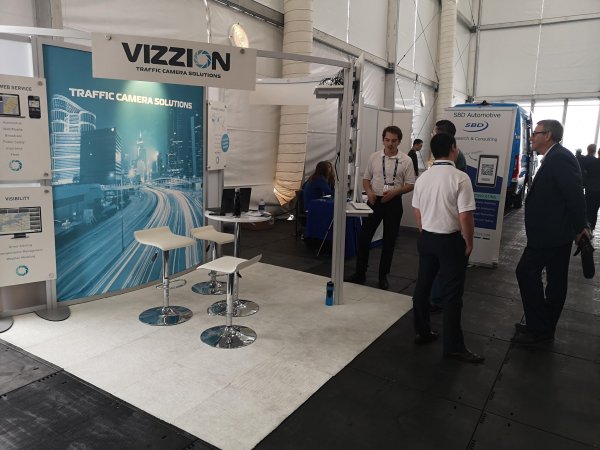 After months of planning, the day of the trip had finally arrived with a 6:00 am trip to the Vancouver airport. We arranged for our flight to arrive in Los Angeles early on the day prior to the show so we could set up at a relaxed pace. The saying "many hands make light work" held true as the three of us set up our booth that afternoon. Our booth is comprised of a metal frame that supports our main attraction: a four monitor system that displays the products and services we are eager to show off. The booth materials get shipped from our head office to the show location in four large cases and one suitcase. Everything that comes out of a case gets put back into the same one at the end of the show, a process that helps us stay confident that everything is accounted for at the next event.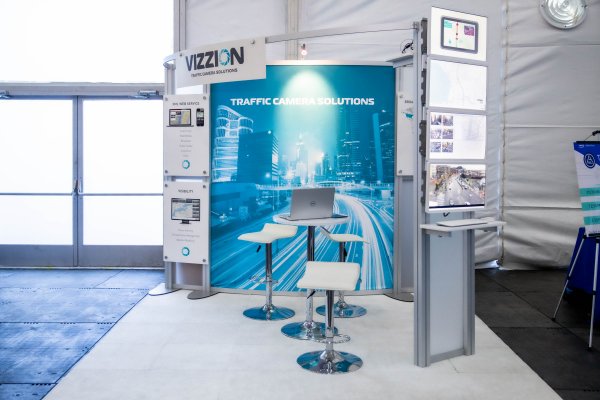 Setting up early had its advantages, as we were able to take a few hours the next day to see the beach and enjoy a bit of sun, something us Vancouverites don't get much of in November. At 4:00 pm on Monday afternoon, it was officially showtime. A festive networking reception that included drinks and food served by entertainers dressed in a foliage theme and a live band playing lively jazz-funk renditions of classic songs took place that night. This relaxed atmosphere created an environment full of easy conversation and opportunities for attendees to build professional relationships.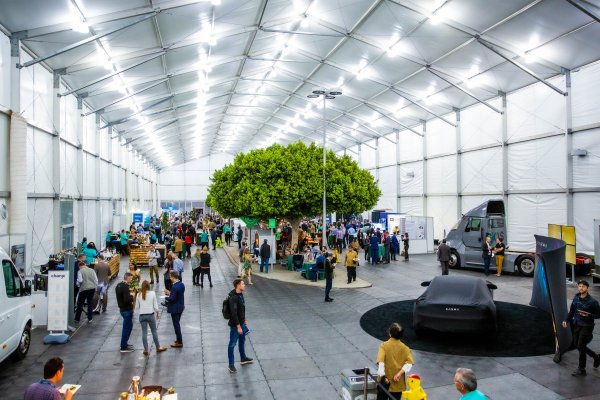 The main event of the show began the next day on Tuesday, November 19th. Show attendees began to arrive at 8:00 am, and almost immediately they began making their way towards our booth. I was ready to greet them with a smile and the phrase: "Hi, have you heard of Vizzion before?" Traffic was consistent throughout the day, with spikes following the end of the various panels and demonstrations. Taking the time to answer everyone's questions, exchange business cards, and quickly write down notes about our visitors' business needs definitely kept me on my toes. There were lots of opportunities for networking over coffee and a great lunch provided by the show and prepared by some of LA's famous food trucks.
As always, we were excited to display our newest products. Visitors saw a preview of two of the latest analytics systems we are currently developing. Through a collection of images archived in our historical database, we also showed them the accumulation of snow in Toronto from the previous week. The progression, shown in five minute increments, was impactful, leading an attendee from the insurance sector to ask how this tool could be applied to claims investigation. We later demonstrated how the images collected could be used to monitor pedestrian flow by showing the progression of foot traffic that assembled in the streets surrounding Seattle's CenturyLink Stadium following a Seahawks game.
No auto show would be complete without a Michigan presence, and sure enough we attracted a few attendees and fellow exhibitors who were based out of the state to our booth. Fortunately for our demonstration (but at the expense of Michigan commuters), the Detroit area had been enveloped in heavy fog that day, which our Poor Visibility Detection tool notified us of. We took advantage of this opportunity to show them what the weather was like back home. This comparison was a great way to show off our automated weather detection analytics, and also made everyone happy that they were in sunny Los Angeles that day.
We set up our Desktop Video Wall, a product designed for fleet dispatchers and operations centers, to showcase our high-quality video streaming cameras across downtown Seattle. Booth visitors were able to see the weather and traffic conditions across the entire area through 25 traffic camera video streams that were all displayed on one screen. As passers-by stopped to watch traffic, construction, and weather unfold in front of their eyes, we were able to explain how valuable cameras are for communicating important information about roadway conditions.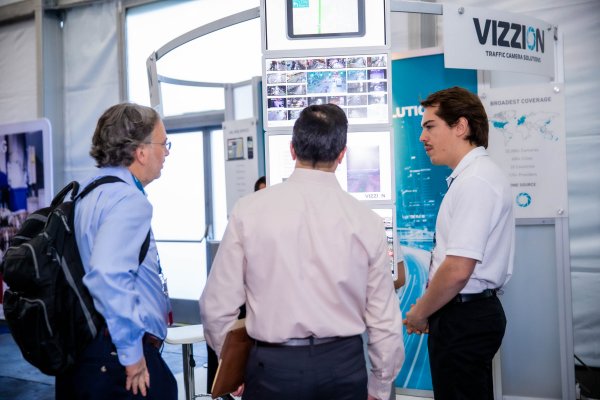 The show ended at 6:00pm, but my day was not over quite yet. What goes up must come down, and that included our booth. After packing up and handing off the shipping and customs paperwork, it was finally time to leave the Convention Center and join some of the other exhibitors at the post-show social event. It was a fun time chatting with the other attendees about the state of the industry, future events, and potential partnerships.
Our departing flight left Los Angeles in the early afternoon on the day following Automobility LA. We had just enough time in the morning to head back to the Convention Center for a walk-through of the vehicle unveilings and to listen to press conferences held by some of the world's biggest car manufacturers. The show floor was full of exciting 2020 model year releases. A couple personal favorites of mine included the Karma SC1 Vision concept car and the Porsche Taycan. A highlight for the group was checking out a drivable model Bugatti constructed entirely of LEGO bricks.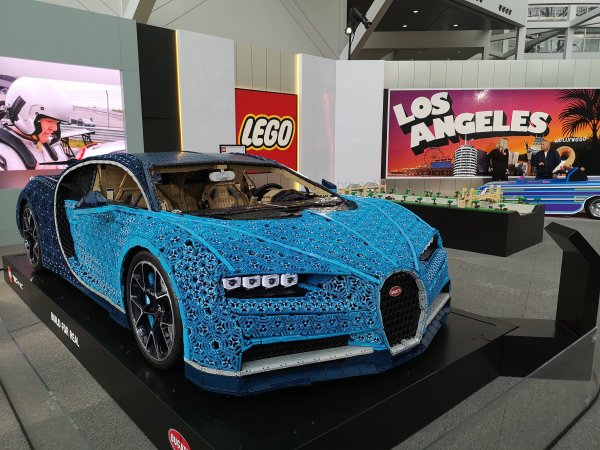 Overall, Automobility LA was a great learning experience for me. The show provided Vizzion with the ideal setting to build awareness of our brand, expand our network, and display our latest products. I can't wait to do it all again at our next exhibition in Detroit!
About Vizzion
Vizzion is the leading traffic camera supplier for traffic and weather applications and operations centers. Through partnerships with over 200 different transport agencies worldwide, Vizzion offers live feeds from over 64,000 roadside cameras in 43 countries across North America, Europe, Asia, Australasia, and key markets in South America and Africa. The service is available through a flexible XML Web Service and turnkey Desktop Video Wall software. Vizzion's content is trusted by major digital, broadcast, traffic, fleet, and automotive organizations.